The South Caucasus republic of Georgia is struggling with a plague of brown marmorated stink bugs (BMSB), or Halyomorpha halys. Originally native to East Asia, the BMSB is an agricultural pest that can cause widespread damage to fruit and vegetable crops, particularly when present in an environment devoid of its natural predators. Recent outbreaks have also occurred in Switzerland, in 2008, and in the United States, where, at its height in 2010, the devastation of various crops, such as peaches, apples, pears, green beans, soybeans, corn and berries, was estimated at $21 billion (Accent.com.ge, October 14). The BMSB is believed to have migrated to western Georgia in 2015, from Russia's Sochi region and Abkhazia.
The pesticide-resistant stink bug, which presents no danger to humans or domestic animals aside from possible allergies, began to spread massively in western Georgia in 2016. The destruction caused by the BMSB to hazelnut plantations in the regions of Samegrelo, Guria, and Imereti in that year is alone estimated at 50–60 million Georgian lari ($20–24 million) (Netgazeti.ge, September 6). Yet, the total extent of the damage inflicted—which included virtually all areas of western Georgia's agriculture, notably essential crops such as corn and multiple kinds of fruits and some vegetables—is not known.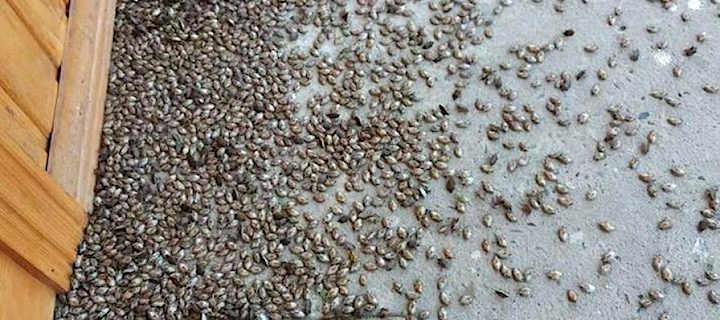 BMSBs hibernate in houses and structures for months and annually multiply by a factor of 200. Small wonder then that, despite the Georgian Ministry of Agriculture and National Food Agency's program of complimentary spraying of pesticides in western Georgia's hazelnut orchards (Nfa.gov.ge, accessed October 18), the BMSB outbreak spread even more intensely in 2017. By October, stink bugs were already registered in significant numbers in the capital Tbilisi, located in eastern Georgia, causing alarm among the population (Oc-media.org, October 13). According to the Georgian parliament's Agriculture Committee, 53,000 hectares of hazelnut fields were sprayed with pesticides as of September, and there are plans to treat 70,000 more hectares. Despite this, the Committee projected about a 30 percent decrease in the hazelnut output this year, due to the pest (Netgazeti.ge, September 6).
In 2016, total income from Georgia's hazelnut cultivation amounted to $179.5 million, while the value of hazelnuts sold internationally constituted 8.5 percent of Georgia's entire export. However, the BMSB plague has already slowed down the growth trend in Georgia's hazelnut exports: between 2015 and 2016, foreign hazelnut sales grew by only 0.5 percent, whereas the increase between 2015 and 2014 measured 1.6 percent, with hazelnuts comprising 6.4 percent of all exports in 2014 (Netgazeti.ge, September 6).
Importantly, no official information exists yet as to the scope and amount of damage suffered by local farmers, especially with regard to any agricultural sectors other than hazelnuts, on which the Georgian government seems to have been solely focusing its containment efforts. The opposition party European Georgia (EG) submitted 4,100 signatures of farmers to the State Chancellery, demanding compensation for them, which the government denied. Lela Keburiaof EG bemoaned that "when you [the government] tell the people decisively that there will not be any compensation […] did you [actually] quantify the damage? Based on what numbers do you reject the compensation? Perhaps the damage is 5 lari or 5 million?" (Netgazeti.ge, October 13). According to the accountablenational budget official, Giorgi Kakauridze, because no compensation is being considered, the government did not conduct a damage assessment.
The 2018 national budget includes 4 million lari ($1.6 million) for fighting the BMSB. And although this amount is being complemented by another 8 million lari ($3.2 million) from the United States Agency for International Development (USAID) in 2017, thus far the opposition party United National Movement (UNM) decried the planned government expenses as utterly insufficient to combat the already nation-wide pest (Netgazeti.ge, October 12). Indeed, in the course of the summer, multiple alarming reports by local newspapers and media from western Georgia indicated that farmers were facing a "catastrophe" because the bugs attack "any plant" and "destroy cultures […] that require years to be built up" (Timer.ge, August 23). For instance, next to "corn, beans, squash, cucumbers, tomatoes, peppers, grapes, apples pears, figs and peaches," the BMSB also unusually attacked citrus groves (Ambebi.ge, October 12).Furthermore, the insects were recently encountered as far southeast as Marneuli,10 miles from the border with Armenia and about 15 miles from Azerbaijan(Marneulifm.ge, October 11).
At this point, the authorities appear to have no comprehensive strategy for combating the pest in the long term beyond pesticides, which, as a rule, are only partially effective while also limiting the usability of plants and produce. The National Food Agency's Zurab Lipartia acknowledged that no quick progress can be expected: the Agency believes "five to six years" may pass before the damage inflicted by BMSBs can be scaled back to insignificant levels (Netgazeti.ge, September 6). Urban populations are being told to fight the insects hibernating in their homes—come fall and winter, hundreds or thousands are regularly discovered in individual residential units—by "collecting" and "mechanically killing them" (Ncdc.ge, accessed October 18). Meanwhile, public schools and kindergartens in Batumi had to be closed for three days to clean the facilities due to the BMSB invasion (News.ge, October 14; Batumelebi.ge, October 13).
The International Plant Protection Convention as well as the European and Mediterranean Plant Protection Organization signaled their cooperation with Georgian agencies in determining proper steps to solve the crisis (Netgazeti.ge, September 6); and the topic of the BMSB even made it on the agenda of the 41stround of the Geneva Talks between Georgia, Russia and the United States with South Ossetia and Abkhazia's participation (Imedi.fm, October 13). Yet, it remains to be seen how soon and how effectively the Georgian government manages to mobilize sufficient resources and funds to combat this escalating problem.